Washbasin with integrated countertop, custom-made, Flexible 47/50/60, POLAR 50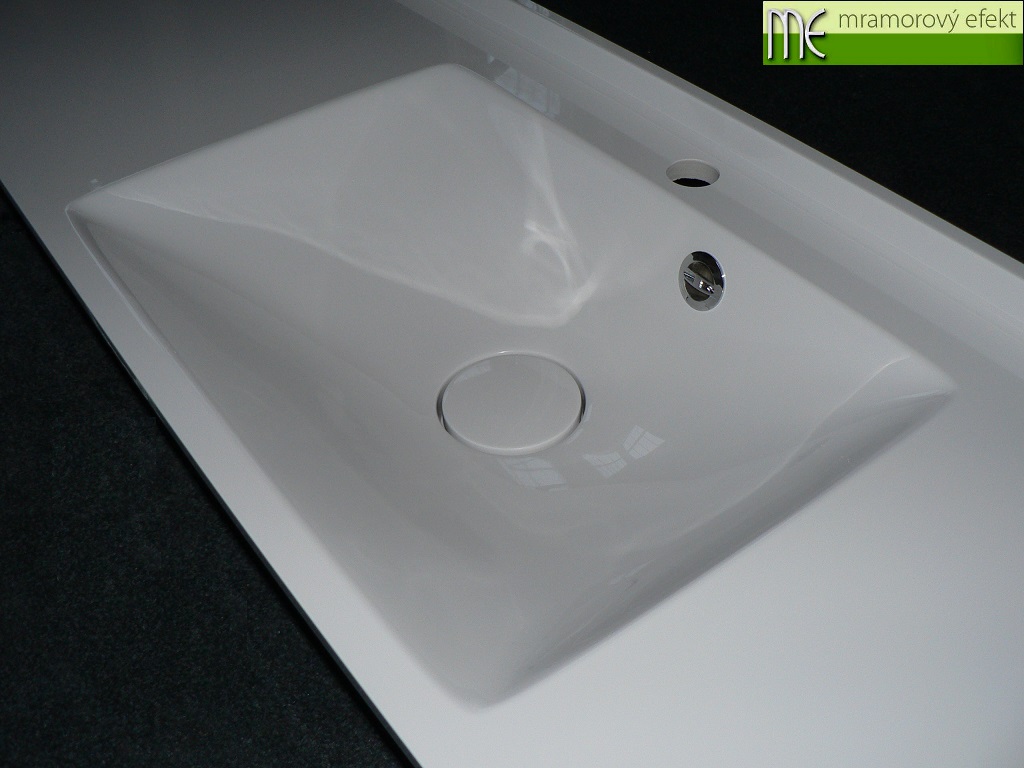 We produce custom-made washbasins with integrated countertops for new buildings of all types, refurbished bathrooms and washrooms, housing cores lined with bricks and other applications.
Washbasin countertop dimensions [cm]:

Width (longitudinal dimension)

: 65 - 295

Depth (transverse dimension)

: 38 - 60

Height of front and side facing: custom made, at maximum

up to 25
Rear plinth (custom-made, done when required):
The washbasins with integrated countertop might be produced either with oval shape washbasins:
or with circular shape washbasins:
JASPIS47 (diameter 47 x depth measured down to the drain plug 17) cm

CORNER32 (diameter 32 x depth measured down to the drain plug 16) cm
or with stylish rectangular shape washbasins:
The washbasins are positioned in the countertops:
symmetrically

assymetrically according to customer specifications
Washbasin options:
Standard tap hole (D 35 mm)

openings for liquid soap dispensers, paper towel dispensers, etc.

plastic overflow
Installation of washbasin countertops:
on a cabinet as a part of bathroom furniture

on the wall with use of steel brackets

on the retaining wall
To request an individual solution or to place an order click on the button below and send us an electronic form with required product parameters. You can also contact us by email: martin.blesa@mramorovy-efekt.cz or by calling 00420 737 783 379.
After we have received customer request, we send calculated price quotation with delivery terms. Right after customer order has been delivered by email we send our Proforma Invoice togehter with an Order Sheet recapitulating required parameters of selected product. The delivery time depends on actual production capacity. Orders can be picked up at our factory located at Frydstejn 145 (district Jablonec nad Nisou, Czech Republic) or delivered by shipping companies.
The approximate price is given per meter of width of the washbasin countertop, fitted with one washbasin.
Custom-made steel consoles, covered with white komaxit, can be ordered as a component of the order.
ASK or ORDER
Related products
We produce custom-made washbasins with integrated countertops for new buildings of all types, r
We produce custom-made washbasins with integrated countertops for new buildings of all types, r
We produce custom-made washbasins with integrated countertops for new buildings of all types, r
We produce custom-made washbasins with integrated countertops for new buildings of all types, r
We produce custom-made washbasins with integrated countertops for new buildings of all types, r