Counter under washbasin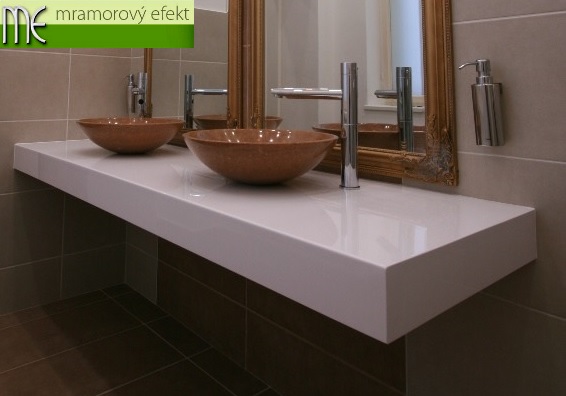 We produce counters under washbasins in dimensions [cm]:
width (longitudinal):

30 - 295

depth (transverse)

: 30 - 70


height of front face and sides:

max. 25

The thickness of counters under washbasin is 1.5cm. The impression of robustness supports the production with front and side faces at a height up to max. 25cm, whereupon it is possible to make the coutertop flat, without front and side faces. The counters can be provided with openings for plumbing, waste or in accordance with individual building layouts, the board can be made with cutouts for risers, niches, etc.

Rear plinth (custom-made, done when required):
Installation of countertops under washbasin:
on a cabinet as a part of bathroom furniture
on the wall with use of steel brackets
on the retaining wall
Colours: white or selection out of colours according to RAL or selection of Granite patterns (choose out of SGA patterns)
To request an individual solution or to place an order click on the button below and send us an electronic form with required product parameters. You can also contact us by email: martin.blesa@mramorovy-efekt.cz or by calling 00420 737 783 379.
Custom-made steel consoles, covered with white painting, can be ordered as a component of the order.
The approximate price is given per meter of width of the counter under washbasin.
ASK or ORDER