Washing trough (washing hollow 80cm) in the countertop with required dimensions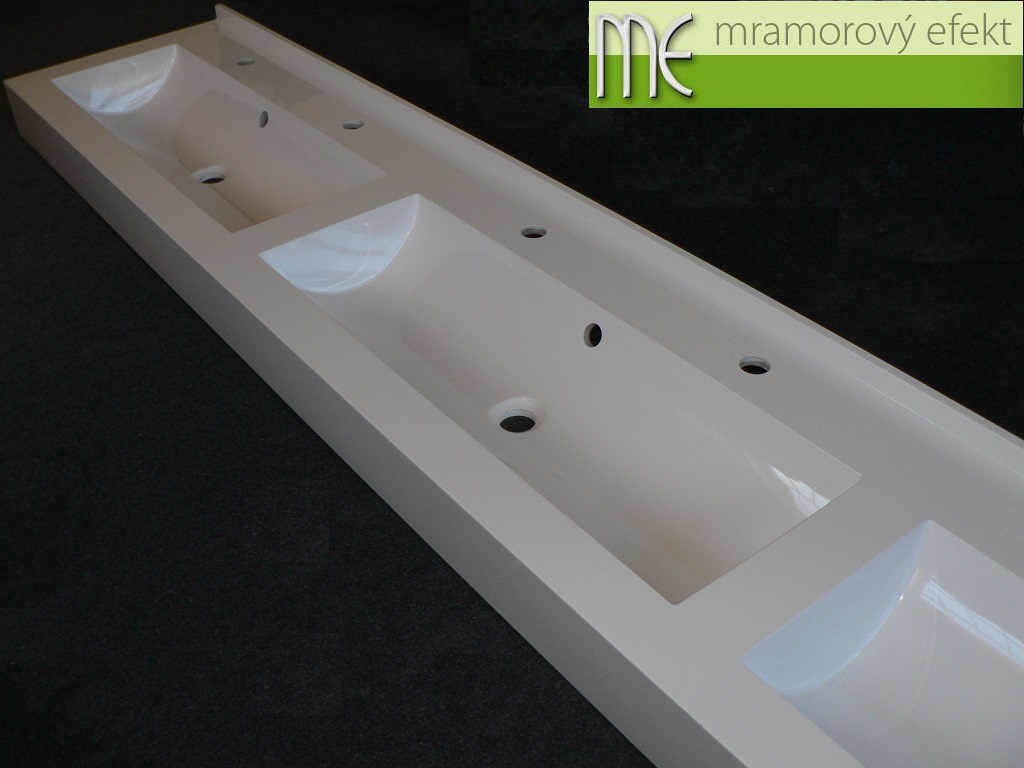 We produce custom-made washing troughs in the countertop dimensions [cm]:
width (longitudinal)

: 93 - 295 (produced as one piece)

depth (transversal)

: 36 - 60 (the best is up to 50)


height of front and side faces

: mostly up to 15, max. 25


number of holes for upright batteries

: 2 (in 80cm hollow of the trough)

1 waste, 1 overflow
The washing troughs have a countertop thickness of 1.5cm. The impression of robustness is supported by fitting the front and side faces with height up to max. 25 cm, based on customer request.
The length of the washing hollow is 80cm. The shortest washing trough body, without side faces (for installation into a niche), is manufactured from a width of 93cm, with side faces from 95 to 290cm.

When the body of washing trough is longer than 93cm the trough has flat areas on both sides where the washing trough body could be equipped with any combination of both trough hollows (80cm a 165cm). It the trough hollow is the only one it can be positioned either symmetrically or aside, according to customer requirement.
Detailed dimensions are sent to customer email based on request.
The washing trough can be equipped with rear plinth:
Washing trough installation:
on a cabinet as a part of bathroom furniture
on the wall with use of steel construction as a part of order
on the retaining wall
To request an individual solution or to place an order click on the button below and send us an electronic form with required product parameters. You can also contact us by email: martin.blesa@mramorovy-efekt.cz or by calling 00420 737 783 379.
After we have received customer request, we reply with calculated price quotation with delivery terms. Right after customer order has been delivered by email we send our Proforma Invoice together with an Order Sheet recapitulating required parameters of selected product. The delivery time depends on actual production capacity. Finished orders can be picked up at our factory located at Frydstejn 145 (district Jablonec nad Nisou, Czech Republic) or delivered by shipping companies.
ASK or ORDER
Related products
We produce custom-made washing troughs in the countertop dimensions [cm]:
...
We produce custom-made washbasins with integrated countertops for new buildings of all types, refurbished bathrooms and washrooms, housing cores lined with bricks and other applications.
...